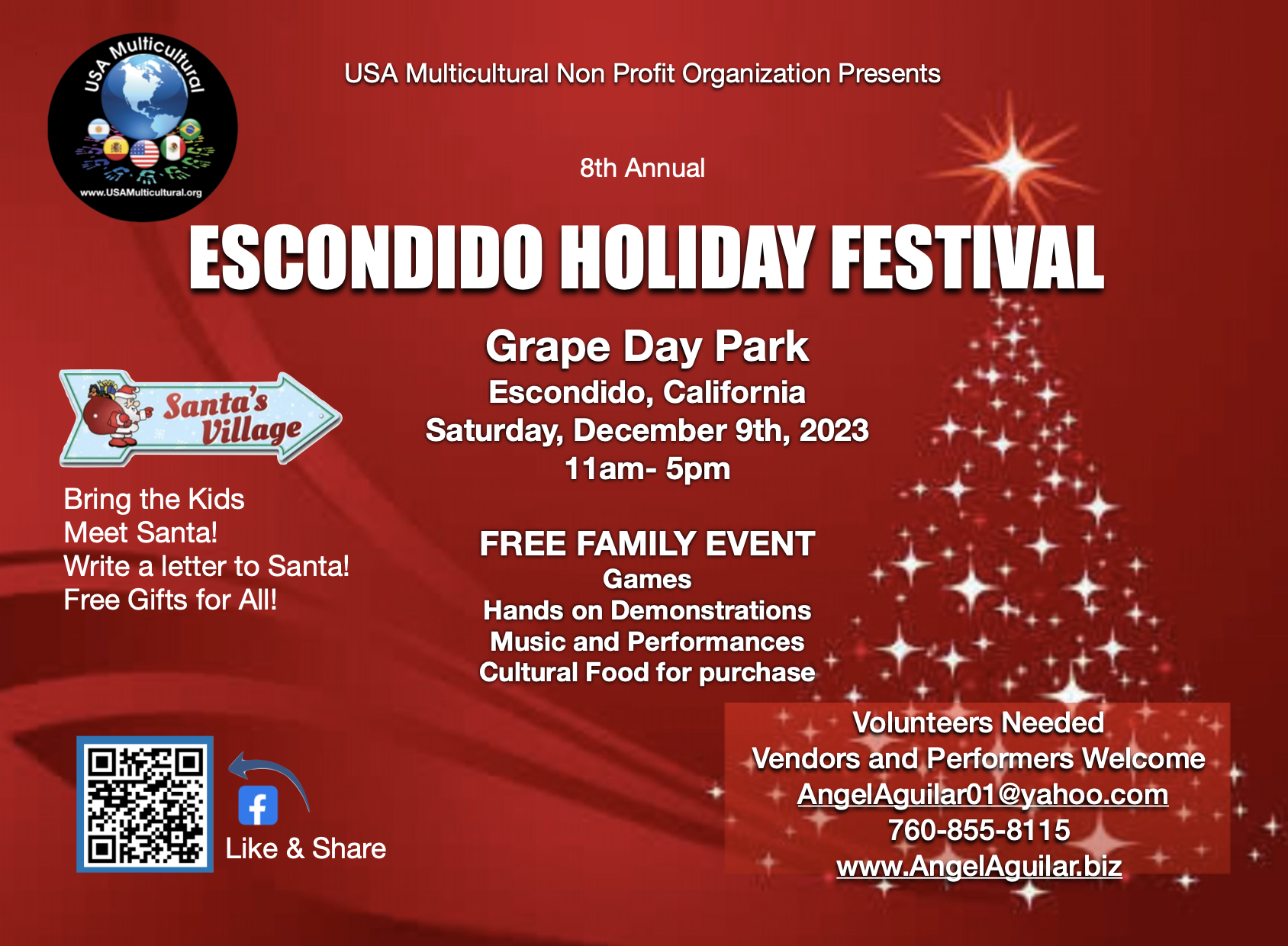 USA Multicultural Holiday Festival is just around the corner! Mark your calendar for December 9th, from 11-5 pm at Grape Day Park.
Celebrate the holiday season in style. This festival promises to be a day filled with joy, entertainment, and giving back to the community.
The Escondido Holiday Festival has become a cherished tradition for our community, and this year is no exception. The event will feature an incredible lineup of entertainment that will keep you and your family entertained all day long. From live music and dance performances to captivating shows, there's something for everyone to enjoy. As a professional belly dance artist, I appreciate the importance of performance, and I'm excited to see the talent on display.
Of course, no festival is complete without delicious food, and you won't be disappointed. Food vendors will be serving up a mouthwatering array of dishes, ensuring that your taste buds are in for a treat. And for those who love arts and crafts, there will be a variety of vendors offering unique and handmade items that make perfect holiday gifts.
One of the most heartwarming aspects of the Escondido Holiday Festival is our commitment to giving back. Last year, over 1,000 toys were given out to kids and young adults, spreading holiday cheer throughout the community. This year, our goal is to double that number and distribute 2,000 toys, absolutely FREE. It's a testament to the generosity and warmth of our community members, and I couldn't be prouder to be a part of it.
So mark your calendars for Saturday, December 9th, and join us at the Escondido Holiday Festival. As someone who loves to live life to the fullest and be happy, I can assure you that this event will fill your heart with joy. Let's come together, celebrate the season, and make a difference in the lives of our young ones. See you there!
Share this with your friends and family! Let's all come together in a safe and fun day and enjoy.
Contact Angel Aguilar (info on flyer) for more info on how to perform, vend or volunteer. AngelAguilar01@yahoo.com